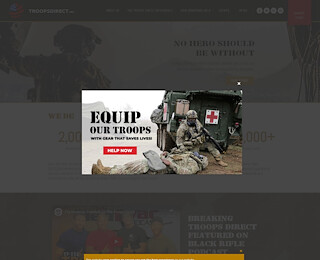 Donate Army Emergency Relief: Donation to Army Troops
Troops Direct is a non-profit organization dedicated to helping the men and women of our U.S. military get access to essential gear and equipment necessary for their health, safety, and mission success. Through donation drives, donation centers, and financial assistance programs, we provide aid to those in need both on active duty and veteran status. With more than 20 years of experience providing assistance to the brave members of our armed forces who put their lives at risk for the safety of us all, Troops Direct is proud to be a leader in donation army emergency relief efforts.
Q&A:
Q: What does Troops Direct do?
A: Troops Direct provides critically needed gear and items to US troops. We make sure that they have access to the equipment they need throughout their missions, be it a donation drive or donation center. Our donation drives are run by volunteers who get donations from individuals, businesses, and organizations all over the country to support our service members.
Q: What different donation to Army & military opportunities exist?
A: There are a variety of donation opportunities available to those wanting to support our troops. You can make a donation in honor of someone you know who has served, or even donate items directly from your own home. You can also participate in donation drives and donation centers that are run by volunteers across the country, or provide financial assistance through programs like ours.
Q: What kind of donation does Troops Direct accept?
A: We accept financial donations that go directly to purchasing gear and critically needed items for Army and service members. We also accept donations of essential items such as tools, hygiene products, and clothing.
Q: How can I donate to Troops Direct?
A: To make a donation to Army through Troops Direct you can visit our donation page or contact us directly. You can also participate in donation drives or donation centers run by volunteers across the country.
Q: What is the impact of my donation?
A: Your donation will help us provide crucial gear and items to US troops so they can stay safe while on their missions. By donating you are helping to ensure that the brave men and women who serve our country have access to the supplies they need when they need it most.
Q: Is there any other way I can help?
A: Yes! You can spread the word about donation drives and donation centers, or even volunteer your time to help run donation drives. Every little bit helps and is greatly appreciated.
Q: How do I know that my donation is making a difference?
A: At Troops Direct, we make sure that every donation counts and goes to supporting US troops. We are transparent about where each donation goes so you can be sure that your donation is helping those in need.
Q: Does Troops Direct have any success stories of people they've helped?
A: Absolutely! One example is of a soldier who was deployed overseas without access to essential gear and items needed for his mission. Thanks to donations to Army and military from our donation drives, he was able to get the items he needed and complete his mission.
Q: How can I stay up to date with the latest donation opportunities?
A: You can follow us on social media, join our mailing list, or check out our donation page for more information. We also update donation drives and donation centers regularly so you don't miss any opportunities to donate.
Q: Who do I contact if I have any questions about donations?
A: You can contact us directly if you have any questions or concerns about donations. Our team is always ready to answer any inquiries you may have.
Closing Paragraph:
By donating now, you are helping US troops get access to essential gear and items necessary for their missions. Every donation, no matter how small, helps make a difference in the lives of those who risk their lives to serve our country.
TroopsDirect
877-978-7667
4000 Executive Pkwy Suite 375
San Ramon CA 94583 US